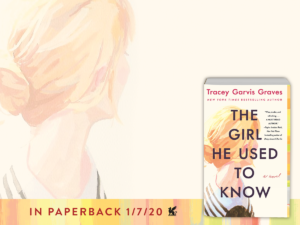 Happy Holidays, everyone!
I don't know about you, but I'm knee-deep in holiday shopping, decorating, baking (and eating). I absolutely love this time of year and I'm in my element from Thanksgiving until New Year's Day.
First of all, I want to thank everyone who voted for The Girl He Used to Know in the Goodreads Choice Awards. It was my first nomination and it was truly an honor. I didn't win, but I was absolutely thrilled to have been considered (and huge congratulations to winner Casey McQuiston's Red, White & Royal Blue!).
I am so grateful for the amount of love that's been shown for the book since its publication last April. I don't think a day goes by that I don't receive a message on social media about how the book has touched someone. That is the highest compliment you can give to an author and I want you to know how much it means to me.
This year, 2020 will start off with a bang because not only do I get to celebrate a new decade but also the publication of the trade paperback edition of The Girl He Used to Know (available January 7th). I can't wait to hold it in my hands.
The trade paperback is available for pre-order now at the links below:
More exciting trade paperback launch news to come! But in the meantime, I hope you all have a wonderful holiday season full of blessings, joy, and good cheer.
xoxo,
Tracey