Heard It in a Love Song
Love doesn't always wait until you're ready.
Layla Hilding is thirty-five and recently divorced. Struggling to break free from the past—her glory days as the lead singer in a band and a ten-year marriage to a man who never put her first—Layla's newly found independence feels a lot like loneliness.
Then there's Josh, the single dad whose daughter attends the elementary school where Layla teaches music. Recently separated, he's still processing the end of his twenty-year marriage to his high school sweetheart. He chats with Layla every morning at school and finds himself thinking about her more and more.
Equally cautious and confused about dating in a world that favors apps over meeting organically, Layla and Josh decide to be friends with the potential for something more. Sounds sensible and way too simple—but when two people are on the rebound, is it heartbreak or happiness that's a love song away?
Pre-order Heard It in a Love Song:
Barnes & Noble (to come)
---
The Girl He Used To Know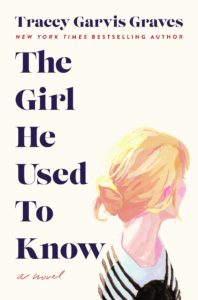 New York Times bestselling author of On the Island, Tracey Garvis Graves, presents the compelling, hopelessly romantic novel of unconditional love.
Annika (rhymes with Monica) Rose, is an English major at the University of Illinois. Anxious in social situations where she finds most people's behavior confusing, she'd rather be surrounded by the order and discipline of books or the quiet solitude of playing chess.
Jonathan Hoffman joined the chess club and lost his first game–and his heart–to the shy and awkward, yet brilliant and beautiful Annika. He admires her ability to be true to herself, quirks and all, and accepts the challenges involved in pursuing a relationship with her. Jonathan and Annika bring out the best in each other, finding the confidence and courage within themselves to plan a future together. What follows is a tumultuous yet tender love affair that withstands everything except the unforeseen tragedy that forces them apart, shattering their connection and leaving them to navigate their lives alone.
Now, a decade later, fate reunites Annika and Jonathan in Chicago. She's living the life she wanted as a librarian. He's a Wall Street whiz, recovering from a divorce and seeking a fresh start. The attraction and strong feelings they once shared are instantly rekindled, but until they confront the fears and anxieties that drove them apart, their second chance will end before it truly begins.
Buy The Girl He Used To Know:
---
White-Hot Hack
Their love story began in Heart-Shaped Hack. Join Kate and Ian for the thrilling conclusion in White-Hot Hack.
When cybercriminals doxed undercover hacker Ian Bradshaw and forced him to flee, he begged Kate Watts for forgiveness and vowed never to hurt her again. He also convinced her to marry him, and when their idyllic summer on Roanoke Island comes to an end, the newlyweds relocate to a secluded home deep in the heart of Virginia's horse and wine country. Ian still struggles with boundaries, but he keeps Kate's lingerie drawer filled with surprises, and there's no shortage of number-six kisses. There's even a fast, new car to replace his beloved Shelby.
Ian promised Kate that life with him would never be boring, but spending her days picking out paint colors and going to Pilates isn't going to cut it. Meanwhile, Ian discovers that building a white-hat security firm from the ground up seems harder the second time around, and he might have underestimated how much he'd miss the undercover work he walked away from. To make matters worse, the hacktivists are threatening national security, and the task force could really use Ian's help.
Kate and Ian have always worried that their past would catch up to them, and when faced with the biggest showdown of their lives, they must capitalize on the one thing they excel at most: teamwork. Ian claims no one is a better hacker than him, but in order to triumph, he'll have to prove it. And if he can't, he risks losing the woman whose heart he worked so hard to hack.
This is the second and final book in the Kate and Ian series. The first book, Heart-Shaped Hack, can be read as a standalone.
Buy White-Hot Hack:
---
Heart-Shaped Hack
When Kate Watts abandoned her law career to open a food pantry in Northeast Minneapolis, she never dreamed it would be this difficult. Facing the heartbreaking prospect of turning hungry people away, she is grateful for the anonymous donations that begin appearing at the end of each month. Determined to identify and thank her secret benefactor, she launches a plan and catches Ian —a charismatic hacker with a Robin Hood complex—in the act.
Ian intrigues Kate in a way no man ever has. But after learning he's snooped around on her personal computer, she demands retribution. Impressed with her tolerance and captivated by her spirit, he complies and begins to slowly charm his way past her defenses. Time spent with Ian is never boring, and Kate soon finds herself falling for the mysterious hacker.
But Ian has enemies and they're growing restless. In the hacking world, exploiting a target's weakness is paramount, and no price is too high to stop an attack. And when Kate learns exactly how much Ian has paid, she'll discover just how strong her love is for the man who has hacked his way into her heart.
Buy Heart-Shaped Hack:
Signed Paperback
Amazon
---
Cherish
Fans of Covet by New York Times bestselling author Tracey Garvis Graves will be delighted by this novella-length sequel.
When Daniel Rush wakes up in the hospital after suffering a gunshot wound to the head, the last person he expects to see at his bedside is his ex-wife Jessica. Their marriage disintegrated after the death of their infant son Gabriel, and Daniel gave Jessie what he thought she wanted: the freedom to start over with someone else. But Daniel never updated his emergency contact information, and Jessie is the one who receives the call with the devastating news.
Daniel was Jessie's one true love. Together since college, Jessie had dreams of raising a family with Daniel, and growing old together. When Gabriel died, Jessie buried those dreams with her beloved son and shut everyone out, including Daniel.
Daniel faces months of grueling rehabilitation and he's going to need some help. Jessie is the last person anyone expects to volunteer, but this is her one chance to make amends, giving her and Daniel a shot at getting things right this time.
The road to recovery will be long and arduous. But with Jessie leading the way, Daniel just might be able to get his old life back.
Daniel knows how to covet. But can Jessie help him remember how to cherish?
*Please note that this is a novella-length sequel. Reading Covet before Cherish is highly recommended in order to enhance your reading pleasure.
Buy Cherish:
Signed Paperback
Amazon
---
Every Time I Think of You
Thirty-year-old Daisy DiStefano has two people she holds dear: the grandmother who raised her, and her three-year-old son, Elliott. But when Daisy's grandmother is killed in a seemingly random act of violence, Daisy must take steps to protect herself and her child.
Despite a thriving career in San Francisco, thirty-six-year-old Brooks McClain has returned home to spend what little time his mother has left before she succumbs to the deadly disease that is ravaging her. The seasoned investigative reporter has taken a position with the local newspaper and been on the job less than twenty-four hours when he's summoned to cover the death of Pauline Thorpe.
Brooks is all business, but the more time he spends with Daisy DiStefano, the more invested he becomes; there's something about a single mother, a defenseless child, and an unsolved crime that has stirred Brooks's protective instincts like nothing ever has before.
And when the unthinkable happens, Brooks will do whatever it takes to clear the name of the woman he's fallen for and the child he'll protect at any cost.
Romantic and suspenseful, Every Time I Think of You shows how far two people will go to fight for the ones they love, and the life they've always imagined.
Buy Every Time I Think of You:
Signed Paperback
Amazon US
---
Covet
What if the life you wanted, and the woman you fell in love with, belonged to someone else?
Chris and Claire Canton's marriage is on life support. Downsized during the recession and out of work for a year, Chris copes by retreating to a dark place where no one can reach him, not even Claire. When he's offered a position that will keep him away from home four nights a week, he dismisses Claire's concern that time apart could be the one thing their fragile union can't weather. Their suburban life may look idyllic on the outside, but Claire has never felt so disconnected from Chris, or so lonely.
Local police officer Daniel Rush used to have it all, but now he goes home to an empty house every night. He pulls Claire over during a routine traffic stop and runs into her again at the 4th of July parade. When Claire is hired to do some graphic design work for the police department, her friendship with Daniel grows, and soon they're spending hours together.
Claire loves the way Daniel makes her feel, and the way his face lights up when she walks into the room. Daniel knows that Claire's marital status means their relationship will never be anything other than platonic. But it doesn't take long before Claire and Daniel are in way over their heads, and skating close to the line that Claire has sworn she'll never cross.
Buy Covet:
Signed Paperback
Amazon
Apple
Barnes & Noble
Indie Bound
---
Uncharted
Anna and T.J. return in this companion novella to the New York Times bestseller On the Island.
When twenty-three-year-old dot-com millionaire Owen Sparks walked away from his charmed life, he had one goal in mind: get as far away as possible from the people who resented his success, or had their hand out for a piece of it. A remote uncharted island halfway around the world seemed like a perfectly logical place to get away from it all.
Calia Reed wasn't part of Owen's plans. The beautiful British girl—on holiday in the Maldives with her brother, James—made Owen wonder if getting away from it all might be a lot more enjoyable with a carefree girl who didn't know anything about the life he left behind.
But Owen had no idea how much his carefully detailed plans would go awry. Nor did he realize that a decision he made would have such a catastrophic effect on two passengers who boarded a plane in Chicago.
And when Owen shows up at Anna and T.J.'s door with an incredible story to tell, everyone involved will learn just how much their lives are intertwined.
Buy Uncharted:
Signed Paperback
Amazon
Apple
Barnes & Noble
Google Play
---
On the Island
Two people stranded on an island struggle to survive €"and slowly fall in love €"in the runaway New York Times bestseller.
Anna Emerson is a thirty-year-old English teacher desperately in need of adventure. Worn down by the cold Chicago winters and a relationship that's going nowhere, she jumps at the chance to spend the summer on a tropical island tutoring sixteen-year-old T.J.
T.J. Callahan has no desire to go anywhere. His cancer is in remission and he wants to get back to his normal life. But his parents are insisting he spend the summer in the Maldives catching up on all the school he missed last year.
Anna and T.J. board a private plane headed to the Callahan's summer home, and as they fly over the Maldives' twelve hundred islands, the unthinkable happens. Their plane crashes in shark-infested waters. They make it to shore, but soon discover that they're stranded on an uninhabited island.
At first, their only thought is survival. But as the days turn to weeks, and then months, the castaways encounter plenty of other obstacles, including violent tropical storms, the many dangers lurking in the sea, and the possibility that T.J.'s cancer could return. As T.J. celebrates yet another birthday on the island, Anna begins to wonder if the biggest challenge of all might be living with a boy who is gradually becoming a man.
Buy On the Island:
Signed Paperback
Amazon
Apple
Barnes & Noble
Books-A-Million
Indie Bound
Kobo
Penguin