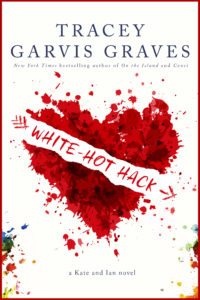 Good morning, everyone!
Today I'm celebrating the publication of White-Hot Hack, the full-length, dual-narrated sequel to Heart-Shaped Hack. So many of you fell head-over-heels for Kate and Ian, and I'm thrilled you wanted to spend more time with them.
When we left Kate and Ian at the end of Heart-Shaped Hack, they had just exchanged wedding vows, and Kate proclaimed that Ian would be her adventure. Truer words were never spoken, but the next chapter in their lives might have been more than either of them bargained for.
White-Hot Hack is about what happens to a couple who have already found their happily-ever-after. If you enjoy stories about married couples who communicate openly and work as a team during times of adversity, this book will be right up your alley (Ian's shenanigans, the banter he and Kate exchange, and their steamy chemistry are just a bonus!).
I appreciate all the enthusiasm and support you've shown the Kate and Ian series, and I hope you enjoy the thrilling conclusion to their story. I'm sure going to miss these characters!!
Amazon US (e-book): http://amzn.to/1RbfO07
Amazon US (paperback): http://amzn.to/1pCxciz
Amazon UK: http://amzn.to/1MivJHU
Amazon CA: http://amzn.to/1nZoc5n
Amazon AU: http://bit.ly/1Mvmtef
Kobo: http://bit.ly/1YFBTnh
Apple: http://apple.co/1XsBqni
Barnes & Noble: http://bit.ly/1M4JcTvS
You can also buy signed paperback copies of White-Hot Hack (as well as the rest of my titles). Simply click on the store link above.
Thank you for once again coming along on this publication journey with me. I hope you'll be with me for a very long time.
xoxo,
Tracey