Elin Hilderbrand Authors Visiting in Des Moines Zoom Event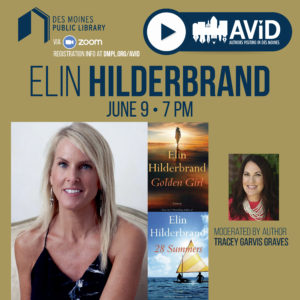 I'm very excited to announce that I will be moderating the Des Moines Public Library Authors Visiting in Des Moines event with Elin Hilderbrand from 7:00-8:15 p.m. CST on Wednesday, June 9th. I am a longtime fan of Elin's books, and I can't wait to discuss her upcoming novel, Golden Girl, which will be released on June 1st.
This is a virtual event, so you can Zoom with us from the comfort of your own home. Even better? It's absolutely free. To register, click here.
Please join us! It will be so much fun.
Elin Hilderbrand is a graduate of The Johns Hopkins University and the Iowa Writers Workshop. She has become known as "The Queen of Beach Reads," having written more than 20 novels, including romance, murder mysteries, historical fiction, and more. She's perhaps most well-known for her best-selling "Summer Books," including Summer of '69, The Identicals, and The Perfect Couple. Her newest book, Golden Girl, is released June 1. Other series include The Winter Street Series and the recently concluded Paradise trilogy.
Her most recent mega-bestseller, 28 Summers, tells the story of a love affair spanning several decades between a woman, Mallory, and a man, Jake, that perseveres through marriage, children, and Jake's wife's rise to presidential hopeful. As Mallory is on her deathbed, her son uncovers the truth of his mother's one-weekend-per-year affair, and everyone learns the way the relationship complicates and enriches their lives.
The event will be moderated by Tracey Garvis Graves, an Iowa-based bestselling author of novels such as On the Island and The Girl He Used to Know. Her next novel, Heard it in a Love Song, will be released in November.