What Have I Been Reading Lately?
I've spent a lot of the last year in a major reading slump. My preferences in contemporary romance have not been aligning well with the current trends, which always leaves me in a bit of a funk. Consequently, I've been reading more women's fiction (which I've always read and loved) and literary fiction.
I'm sharing these titles with you today because I enjoyed all of these books. But I urge you to download a sample first to see if the book is something you'd like. My recommendations are completely subjective and are based on my own personal preferences.
1. It Happened One Wedding by Julie James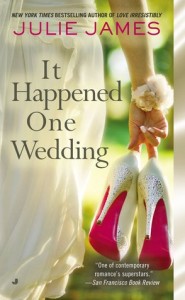 When it comes to romance, I prefer older characters (30s or 40s), conflict over angst, heroines who are level-headed, and heroes who are smart, chivalrous, and preferably wearing a suit. This book certainly fit the bill. It's part of a series, but each book can be read as a stand-alone.
2. The Unexpected Waltz by Kim Wright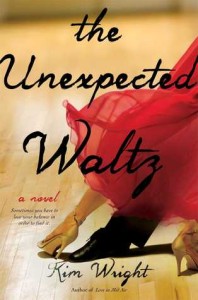 I read (and loved) Kim Wright's debut novel, Love in Mid Air. The Unexpected Waltz features one of the characters from Love in Mid Air but can be read as a stand-alone novel. I loved this story of a middle-aged widow who embarks on a re-awakening through her love of ballroom dancing.
3. Your Perfect Life by Liz Fenton and Lisa Steinke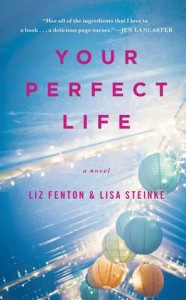 If you're looking for the perfect beach read, your search is over. I love how fresh Liz and Lisa made the premise of switching bodies in this highly relatable and often poignant novel. This is women's fiction at its best.
4. The Vacationers by Emma Straub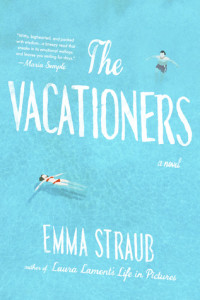 The Vacationers is a book I wasn't sure I'd enjoy. The reviews were quite mixed, which is why I always download the sample first. I'm so glad I did because I discovered this book was exactly what I was looking for. It's about a family who goes on vacation for two weeks in Mallorca. It's literary women's fiction, and not only is it beautifully written, it's one of those books where the setting is so vibrant you feel like you're right there with the characters.
5. Flat-Out Celeste by Jessica Park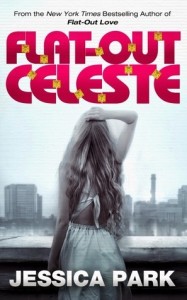 No one writes snappy, sparkling, and intelligent dialogue like Jessica Park. No one. And if you're already a fan of Celeste after meeting her in Flat-Out Love, you will love her even more in this full-length novel. And Celeste + Justin = simply adorable. I also flat-out love (see what I did there?) that this book explores first love in such a sweet and innocent fashion.
6. All Fall Down by Jennifer Weiner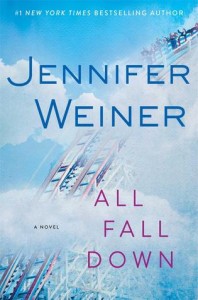 There is something so incredibly addictive about the way Jennifer Weiner tells a story. I've been a longtime fan and before I switched to an e-reader I used to love picking up Jennifer's latest book at Target. All Fall Down tells the very troubling tale of a wife and mother who is addicted to prescription painkillers. It's heartbreaking to follow the main character down the rabbit hole of addiction, but it's an honest and eye-opening journey.
7. Fangirl by Rainbow Rowell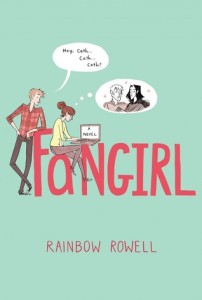 This book blew me away. Frankly, I was not sure I'd connect with it because of my tendency to gravitate toward older characters, but Cath and Levi stole my heart and I really enjoyed the fact that their relationship developed slowly. Cath is a twin and I'm a twin, so I know a little bit about wanting to find your own identity. Rainbow Rowell also showed me how powerful a single POV can be. I did not need to know what was going on in Levi's head, because Rainbow showed me via his dialogue and action. As a reader, I love discovering the nuanced character development that unfolds when a story is told this way. And just like Flat-Out Celeste, Fangirl has a romance that is sweet, innocent, and just as awkward as first love tends to be.
8. The Unimaginable by Dina Silver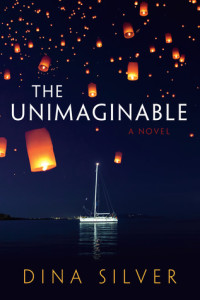 Dare I be so bold as to predict that this book will put Dina Silver on the map? Because I am. Dina is already the author of three delightful books, but The Unimaginable is her most ambitious novel yet. Do you want to know why I loved it? It's got romance, action and adventure, and one of the most powerful endings I've ever read. And it's different. Frankly, if there's one thing readers seem to be clamoring for right now, it's a book that stands out in a crowd. This one does.
9. The Player by Brad Parks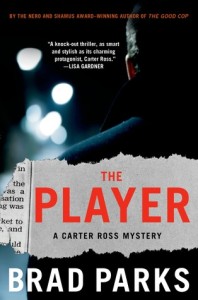 My step-mom actually introduced me to the Carter Ross mysteries because she knew my main character in Every Time I Think of You was a newspaper reporter and so is Carter Ross, the main character in this series. I've read all five of the Carter Ross mysteries (they can all be read as stand-alone novels) and have enjoyed them immensely. Brooks McClain, the reporter in my book, is quite serious. Carter Ross, however, is hilarious. He's also highly likeable, very resourceful, and super entertaining. And in The Player, I finally got something I've been waiting for for a long time. I can't tell you what it is, but if you read all five books you'll know what I mean.
10. Last (but certainly not least) This Is Where I Leave You by Jonathan Tropper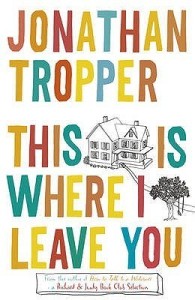 I know I've already professed my love for this book on my Facebook author page, but consider its inclusion on this list as just another testament to how much I enjoyed this book. This is what happens when excellent writing is combined with an engaging story. Jonathan Tropper writes in such a way that I totally "get" what he's trying to say without him having to explain it. To me, that's an example of perfect word choice. The narrator of the story doesn't go on for pages, telling me what he means with inner dialogue. He shows me what he means. And I will go on record as saying that I'm a happily-ever-after, plot-threads-mostly-tied-up-kind of girl. But this story is a bit more open-ended. And I was totally cool with that. Am I dying to know what the outcome would have been for a few of the plot points? Yes. Will I pester Jonathan Tropper for the answers? No. (Maybe). No.
And in case you didn't know, this book will be making its way to the big screen very soon. I cannot wait to see it!
So tell me, what have you been reading lately?